Will Writing During The Coronavirus Lockdown
The Coronavirus and the steps taken to mitigate its effects forced most organisations into some rapid response decision making. At Capacity Marketing for Charities that was certainly the case – what should we do with our ongoing National Free Wills Network programme? The National Free Wills Network links charity supporters across the UK with a local solicitor who writes their Will (free to the supporter). The service is vital to the 146 charities we work with and a source of clients to our 844 Network law firms.
The average user of the Network is someone in their late 60's to early 70's, a group that was about to be advised to shield themselves from society. We also take pride in only working with solicitors, the gold standard in Will writing but reliant on face to face meetings to produce the Wills they write. If the Network were to run over the next few months there would need to be some significant changes.
In consultation with the Network charities and solicitors we decided we could keep the Network system in place. This meant changes to our internal processes, always with a view to maintaining the measurable results we pride ourselves on. Paperwork was simplified and measures were taken to allow for the fact that meetings would be minimal, and the mail system was under strain. There was a limit to what could be done centrally, and the emphasis shifted to actions taken by the 800+ individual law firms that make up the Network.
To find out how they were reacting we started a research piece to see how they had adapted to the challenges presented by social distancing and we are pleased to share the results here. Over 100 firms took part giving us a representative sample. Quotes are unaltered but unattributed because answers were given anonymously, to allow solicitors to be candid in their responses.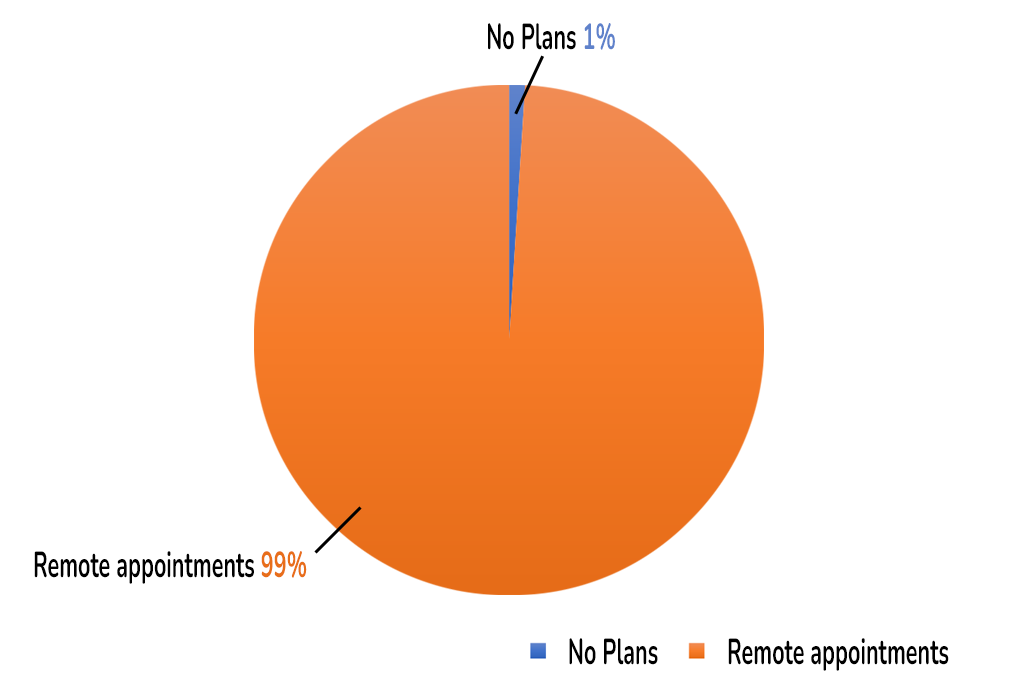 Almost all firms had plans in place for remote or socially distant Will-writing appointments to take place, with only 1% of firms effectively stopping appointments until a later date. These positive results allowed us to continue to provide the Network service.
Remote instructions via telephone or video call. Will signings – all sorts of weird and wonderful ways to ensure Wills are executed in a safe and legal manner.
One of the many reasons we favour working with solicitors is the importance they place on not just completing their part of writing the Will, but also the signing of the completed Will. Until the document is properly signed and witnessed it doesn't become legally binding; effectively there is no Will and getting this part wrong can invalidate the work put into writing the Will in the first place. While appointments could be carried out via Zoom, Skype or Whatsapp, there isn't allowance for Wills to be witnessed in the same way. We were interested in how solicitors were tackling this issue.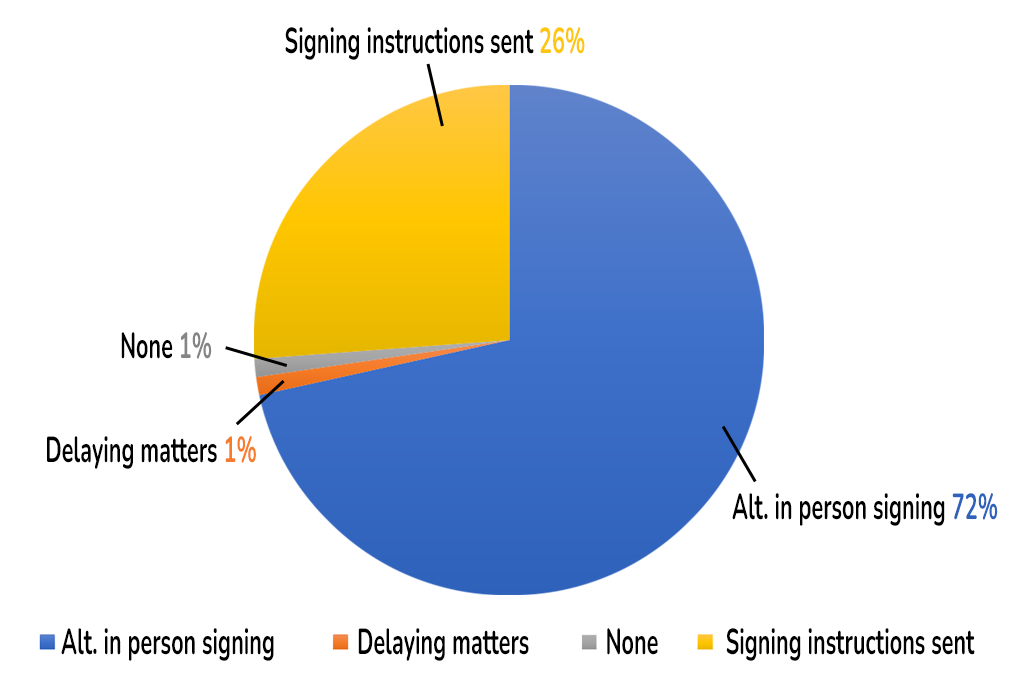 98% of firms had put measures in place to ensure that the Wills were signed correctly, with the vast majority witnessing in person through windows, in gardens, on car bonnets etc. Even when signing instructions were sent, firms added an extra step to check this was completed correctly, usually through the signature page being scanned or a photograph being taken.
I carry out the appointment via Skype. ID is sent to me electronically for me to verify using a desktop means. The work has primarily been done with the clients via email and then I send them the Wills to sign by post with instructions. I invite clients to ask their neighbours to witness through a window, or using a flat surface outside whilst keeping a distance. All parties wear gloves and do not share pens. The clients then scan them to me if they are able, or photograph them so that I can check they have been signed correctly.
These were pleasing results, but we also wanted to know we weren't an added burden to firms in this difficult time, so we asked if the Network was more of a help at this time, the same as usual or less helpful.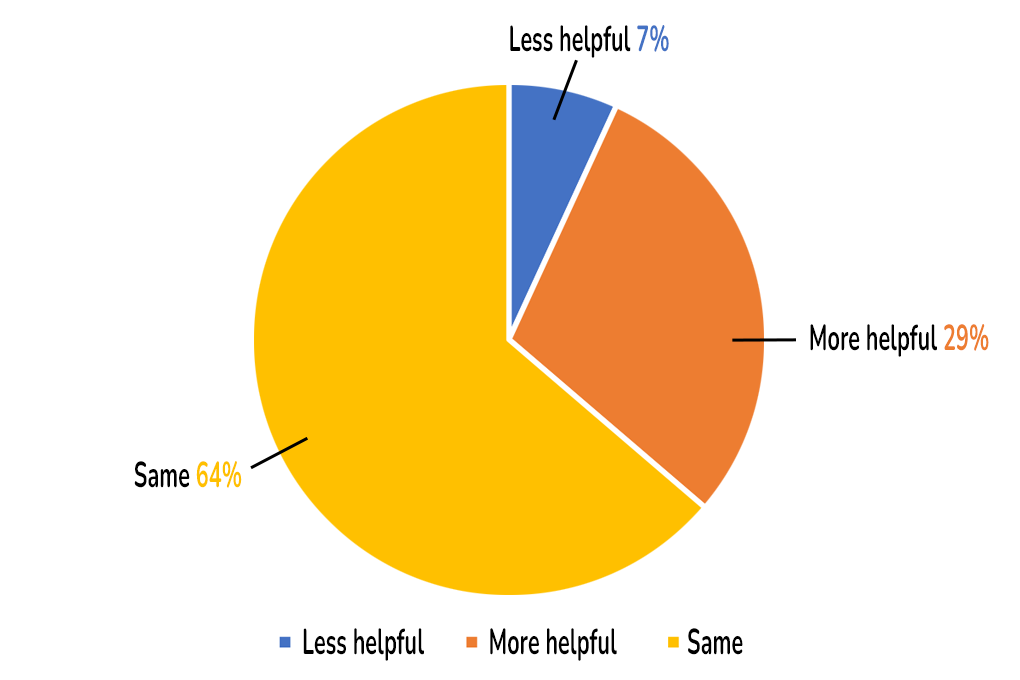 Again, we were pleased to find that for 93% of the solicitors who responded said they still felt the Network was providing something useful to their firm, even in this difficult period. This is key because the solicitors provide their services at a reduced fee for Network charities meaning the service can offer Will writing at a fixed price.
As conveyancing work decreases, we have capacity to take on more Wills work and are grateful for your efforts with the Free Wills Network and Free Wills Month
The adaptations made by the solicitors have enabled the Network to continue providing the best quality of Will writing to supporters of our charity members. Charities have continued to use the service at a very similar rate as they were prior to the crisis, with 75% of charities referring at least one supporter since the middle of March. People are more interested in Will writing; our challenge is how to keep the charitable message as part of that offering.